The announcement of the MacBook Pro Retina totally eclipsed the the "conventional" MacBook Pro 13 "and 15". Yet they also use Ivy Bridge processors and support the USB 3.0. They keep important advantages for somesince still have Ethernet, Firewire 800, a Superdrive, an easy-to-change hard disk and removable RAM.
Faithful to its habits, Macworld has tested these machines and compared them to those preceding them.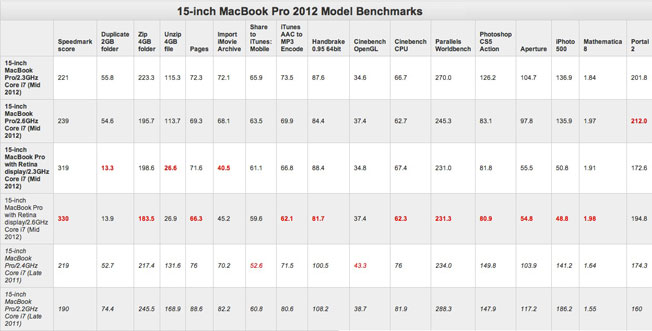 As you can see, if you exclude a visible problem of the optimization of Open GL drivers of Geforce compared to the Radeon on the 15 " models and a faster disk for the high-end 13" of 2011, the new models are significantly faster than the 2011 models. Of course, except for wanting to switch to USB 3.0 there is not real interest to change a 2011 by a 2012 model. In this case it would be certainly more efficient to install an SSD in his machine that will give a much more visible boost than the gains related to a somewhat more powerful processor and a bit faster memory.
A 15 "classical with an SSD or the current Retina brings nearly 100 additional points in the overall score of the tests.