The race for the thinner engraving process is continuing on the NAND Flash market. Toshiba unveiled its first SSD serie based on 19 nm engraved MLC chips.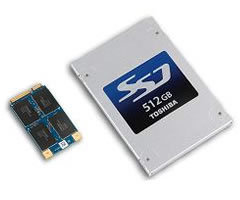 Available in different format, total of 11 models, with storage capacity up to 512 GB, the offer will be large, and while Toshiba does not provide many details, the fastest model will offer transfer speed up to 524 MB/s.
Those SSD units will be compatible with the SATA 3.1 format, bringing new features among them advanced power management and new TRIM system. SATA 3.1 will be supported by Windows 8 and some Linux version, however, as Apple does not support TRIM for third-party SSD, there is probably more time to wait before we see support for SATA 3.1.
Prices have not been released, but we might expect a competitive offer as thsoe memory chips should be cheaper to produce... but the product is new so, we have to pay a premium to compensate?