While we could see in the future more and more 2.5" plate-based HDs in desktop computers, notebook and ultrabook models are more and more thin. For Apple, the choice of SSD was required because of the height and power consumption of standard HD vs. SSD. Other computer companies are looking at alternative, as SSD remains to be too expensive for entry-level ultrabook models; and this is why they are considering with interest the offer for 7 mm thin 2.5" HD instead of the default 9.5 mm.
There are only few models of such HDs, but Western Digital decided to bet on such format: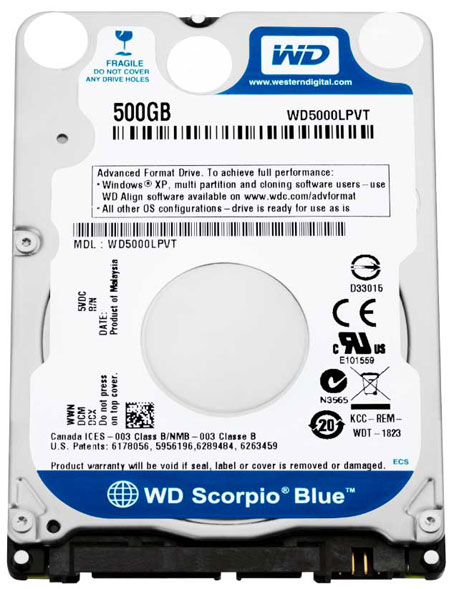 The company unveiled a new serie of Scorpio Blue drive with 7 mm thickness. With such specifications, only one plate can be installed in the enclosure (vs. 2 plates for 9.5 mm, and 3 plates for 12 mm thin HD). But the benefit is high data transfer, around 150 MB/s, lower power consumption and higher reliability. The 500 GB model will be available at 79 EUro (VAT included) while the forthcoming 320 GB unit will cost 70 € (VAT included). If ultrabook manufacturer adopts such format quickly, it could become a new standard for mobile computing.