As we already know it for about one month, Ivy Bridge CPUs official launch date will be on April 29th and will be spread over several weeks. CPU-World obtained details on the forthcoming CPUs:

The first wave of CPUs presented in the table above will perfectly fit into the iMac 21.5" and 27" and we could then expect new iMac models to be released on May 1st, 2nd or 8th. however, there is nothing available yet to power the MacBook Pro models and one will have to wait for the following CPUs to become available, especially for the 13" model (15 and 17" could cop with such elevated TDP):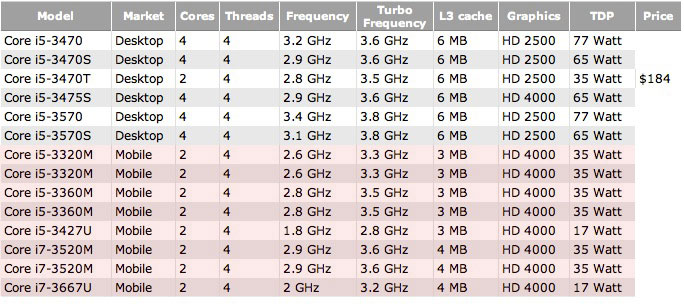 The expected date for the second wave of release, dedicated to low TDP Ivy Bridge CPUs, is expected for June 3rd and will concern the units described in the table above. Such CPUs will fit perfectly in 13" MacBook Pro and MacBook Air and later on in Mac mini.
So, we will still have to wait for several weeks, and Apple is probably rather upset as notebook accounts for more than 50% of its sales. Of course sales of the iPad can compensate for financial figures, but it will not compensate for the number of hardware unit sold.