As a reminder, The Inquirer confirms that Intel will launch its expected Xeon E5 next week, after months of delay due to a bug affecting virtualization. The Xeon E5 are necessary for Apple to update its current Mac Pro offer, as only the E5 models can be installed by pairs on a motherboard. To have an idea of the forthcoming models and their corresponding price, hereafter is a table: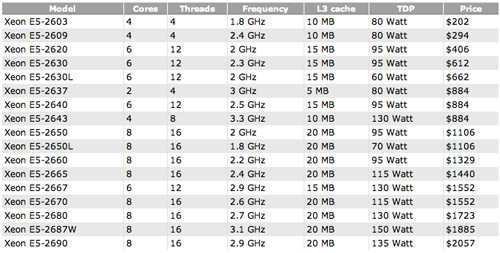 There will be E5 CPU with 4, 6 and up to 8 cores. So we can imagine that new Mac Pro models will be unveiled next Tuesday (or forthcoming Tuesday...). As indicated by the price, the price for a 16 cores (32 threads) Mac Pro will be around 5,000 Euro... so you will have to justify your needs and be sure that you applications can benefit from such raw power.
It is likely that the design of the Mac Pro will be updated, with some changes on HD bays to become compatible with 2.5" drives, and turning the space for the second optical drive into a SSD dedicated location. We are excited to discover the new Mac Pro, even though we think that the entry price tag has now turned the Mac Pro as a hardware model dedicated to niche market, it cannot be the workstation for default customers.