Macworld after having lengthily tested the basic configurations of the Mac mini 2011 they amused themselves instead by ordering the top-of-the-range. They thus carried out their tests on a machine equipped with a 2,7 GHz i7 processor and a SSD that makes the configuration cost 1649 euros including all taxes. They compared in then with a 2,5 GHz iMac 2011 but equipped with 4 core i5 (and without SSD) at a lower cost of 1149 euros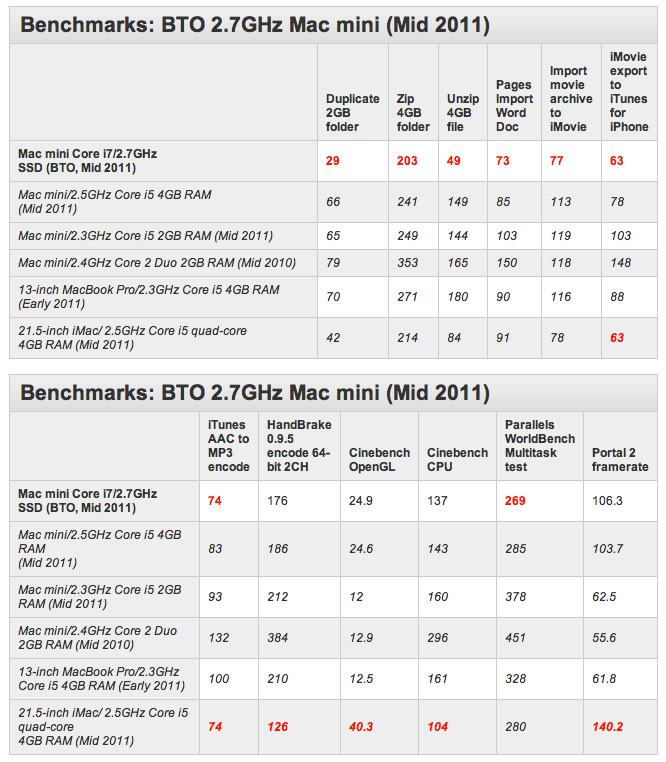 Here some reactions on these tests:
for the tests that make strong requests on the hard drive, as with the virtualisation, the rapid accesses due to intensive multitasking, the Mac mini is boosted by the SSD that does not slow down the rest of the machine
The video card of the iMac is almost 40% faster
On the other hand, as soon as the cores are used by tasks requiring heavy calculation and not saturating the hard drive, the Mac mini again takes the lead. Even though the difference is not very important; the iMac lacks hypertherading.
In any event, one has reached certainly the price limit of mini Mac, since that in any event its graphics card will be limited. Notice, it would be certainly more interesting to buy in basic configuration and to arrange to add in addition to the hard drive a small SSD that would make it possible to contain its price within more acceptable limits.