Among the new devices that were launched with Lion, Apple's new Thunderbolt Display went almost unnoticed.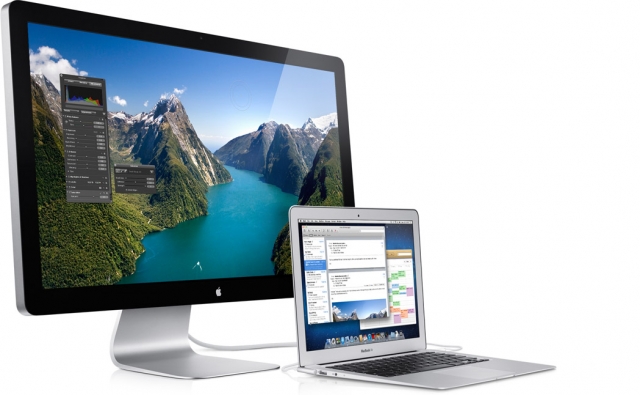 However, it is the product that evolved the most, as it now features in the back:
3 USB 2.0 ports
1 Firewire 800 port
1 Ethernet Gigabit port
1 Thunderbolt port to plug-in a second display.
All of that is connected to the computer with a single Thunderbolt cable, which means that the display contains a converter Thunderbolt to USB, another one to Firewire 800 and another again to Ethernet. As far as we know, they are the first converters of that kind, and this display can bring all the connection ports (except USB 3.0) that are missing from the MacBook Air!
To go even further, Apple could have made a small box that could have done only that without the display. Apple will probably do so in the future, maybe using a bigger power adapter that would also included the needed connections. Apple has a patents for that type of system.
For now, Apple seems to be wanting to give an advantage to the display so it can mark the difference from displays of other brands. Until now, it was possible to find sometimes a better display for often a lower price. It won't be the case anymore thanks to these new features.