Liquid Submertion Indicators, later called Liquid Contact Indicators, which appeared in the first iPhone are now found in nearly all Apple products.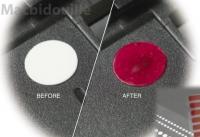 Apple was heavily criticized because of them and even faced court claims, which pushed the company to change its policy.
Good news, it seems that the said indicators have disappeared from the iPad 2! We check internal documents sent to Apple service providers and they do not contain any reference to any liquid indicator. Still, before repairing a device under warranty, the technician will look for any trace of immersion such as corrosion in the SIM card tray, so that in fact a liquid caused the damage.
About the iPad 2, it will be exchanged without any problem in the following cases.
If the glass screen is cracked (on line) without any trace of shock.
If there is dust behind the glass
If one (or more) pixels is defective, whether it is white, of another color, or off.
On the other side, Apple considers that some unauthorized softwares can damage the device, so a jailbroken iPad might be excluded from the warranty.