We have just received the specifications of one of the new 13" MacBook Pro. We will give you the details in a few minutes, but you should already know that Apple is calling its own implementation of the LightPeak technology, 'Thunderbolt'
[Update] Here are the specifications of one 13" MacBook Pro:
Core i5 processor dual core 2,3 GHz with 3 Mo of cache
4 Go of DDR3 1333 MHz
Hard Drive 320 GB 5400 rpm
Glossy 13,33" display 1280x800
Intel HD Graphics 3000 with 384 Mo of RAM shared with the main memory
FaceTime HD video camera
Superdrive 8x
Thunderbolt port compatible with I/O peripherals and high speed Mini Displayport
SDXC card reader, one Firewire 800 and two USB 2.0
Numeric audio out
Integrated Ethernet
Backlit keyboard
Dimensions and weight: 32,5x22,7x2,41 cm; 2,04 kg
The Thunderbolt and Mini Displayport will share the same connector as they have the same shape. There will be options such as the mate display, but we don't have much details yet.
Nothing about an SSD dedicated to the OS. In the end, the upgrade seems less impressive than we first thought, the external design staying the same.
To finish here is a bonus, the Thunderbolt logo: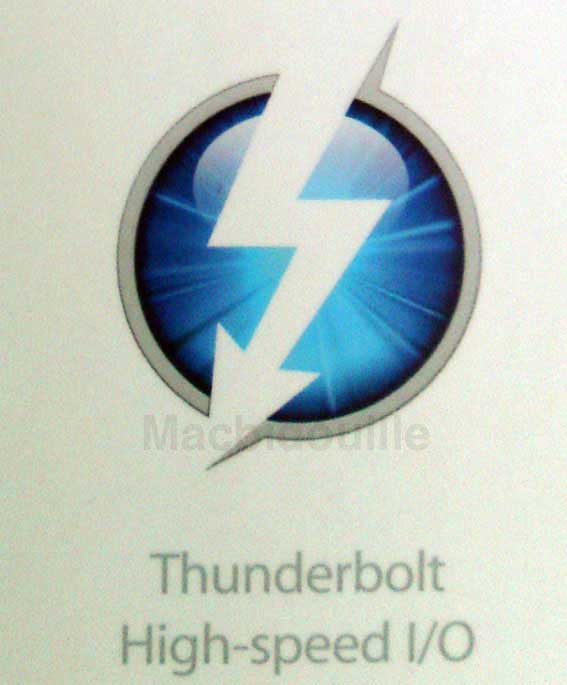 [Update 2] Here is the picture of the thunderbolt on a MacBook Pro: