Yesterday the Radeon HD 69x0 were officially revealed and the first tests carried out on a PC.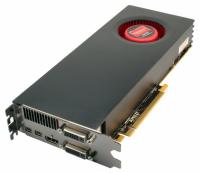 The results obtained with the tests by these cards are mitigated (as the long test carried out by Hardware.fr testifies). According to the usage, the 6970 is definitely faster than the 5870, up to 35%, that is to say slower of some points.
Admittedly, the design of their chip was largely reviewed, but AMD included a system resembling that on the processors, where it will be able to limit its frequency to avoid overheating. Sometimes in the facts, the cards clearly slow down under some demanding bench tests in order not to exceed total thermal wrap that is allowed. For certain aspect this is a good thing, but for others, one finds oneself with a card that is not likely any more to overheat but whose performances is degraded without being informed about it. The good news in all the cases, AMD decided to limit the prices, since one can finds the HD 5970 for less than 330 euros in certain places, that is to say a price close to the 5870 at the end of its career.
To finish, will know that Netkas has discovered in last beta of Mac OS X 10.6.6 drivers that support the AMD Radeon series 6000. It is however too early since it still misses part of code so that these cards are not completely supported. But the business seems to be good, one will end up having, perhaps within a reasonable time these Radeon in the Mac.