Apple is very proud of its design of the Macbook Air, in particular of its thinness. To achieve this result they not only enormously reduced the size of the mother board, but also produced a very thin battery made up of several modules.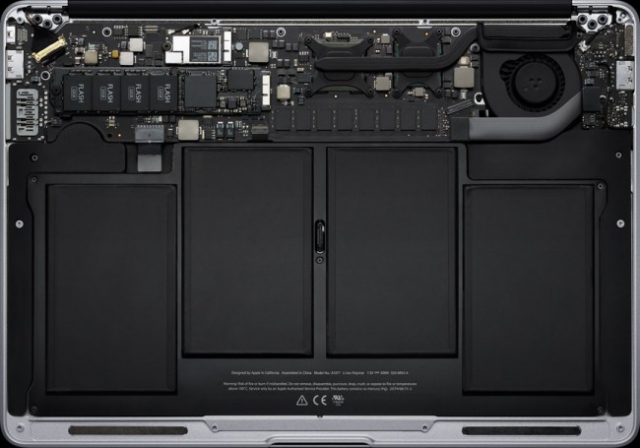 This reduction its thickness is made primarily to the detriment of the protection of shocks and piecing that one usually has with removable batteries, this role being then ensured by the case of the computers.
In this context of brittleness, Apple does not continues to call the repair centers of repair of Mac to be very careful while handling the batteries, a thing that we remind you of, since we believe our readers are much more inclined to take apart this machine one day than readers of other sites.
Apple offers in its after service centres a plexiglass plate made to the size of the batteries that they must mount above in order to strengthen and to protect it. Since it will be very difficult to find a special screwdriver with 5 edges, be extremely careful if you decide one day to take it apart. One should be very careful to not apply any pressure to the modules, even less to knock them in any way with a screwdrivers or to make to scratch them that could damage the envelope seals that contains its principal component, polymeric lithium. Otherwise, the battery could lose part of its capacity, or worse to ignite.
These precautions will be especially valid while it is possible to find a cheap substitution SSD for this machine, that should arrive during the year of 2011.