During the IDF, Intel made an impressive demo of a new technology being currently developed: Light Peak.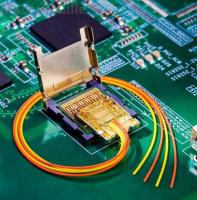 Nothing new for the principle: use optical fiber support data transfer, something already used for year for high-speed and high-performance data transfer network. The same optical fiber network is already use in Japan, and being deployed in some EU countries (Germany, France, Spain, etc.) and should offer up to 100 MB/s both way.
However, Intel aims to make optical transfer the future of all peripheral connections, from a simple external HD to the display. Well, it is in fact Apple that asked Intel to develop such technology to reach a defined goal: one port for all. In addition, one will be able to get any type of data, so a display will be able to get 8 Gbits/s, while the external HD will be fine with "only" assigned 1 Gbits/s.
Of course the demonstration triggered many comments as the hardware used was from Intel (prototype) and the OS, Mac OS X, from Apple. In other words, Apple gave its blessing to Intel to make a Hackintosh to demo this technology?
So, it is not a way for Intel to push Apple to agree to license its OS. It is simply the result of collaboration between Apple and Intel. The first one had the idea/the vision, while the second one is the best for developing the concept and turning it into a new standard. Could we dream of this universal port for high-speed data trasnfer, even USB 3.0 looks like dead slow.
Imagine the future, with only on cable plug to your computer while having it connected to a display, a NAS, a printer/scanner, etc...