Due to the interest shown in these immersion sensors we decided to take a look in detail into this subject. To start, Apple uses, according to our information, the sensors 3M 5557. 3M put online .pdf files describing these products precisely.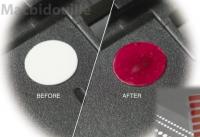 On the photograph above, 3M shows a virgin sensor, and another that has turned red after having been in contact with water.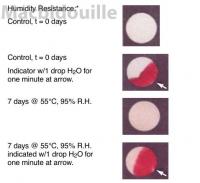 In this second batch of captured photos, they describe a test. It is seen that the minimum contact of liquid will turn whole or part of the pastille bright red. It is also shown; at the end of 7 days at 55°C and 95% humidity that the pastille changes slightly to pink. It is practically certain that as more time passed, the pinker it would have become, and inevitably reaching vermilion, proof according to 3M of immersion. To finish, note that 3M advises to store these pastilles before use in an environment where the temperature does not exceed the 27°C and with humidity not exceeding 40 to 60%. 3M also indicates that they should be used in the 18 months after their manufacture to have the best performances. Apart from these quoted statements… one does not know.
Now, let us pass to the Apple side. To start, they now put them everywhere. Here are some examples in photographs.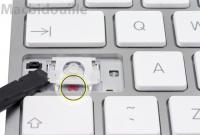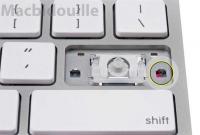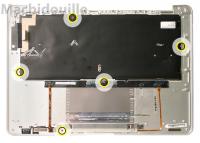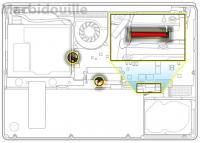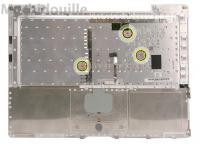 There are now placed in the iPhone, iPod, portables and even for this year in the keyboards!
Here is the advice from Apple to the technicians at maintenance centres, who will have to decide if Mac is entitled to be repaired under guarantee or not.
Liquid submersion indicators (LSI) have been added to specific locations on current Mac portables and desktop keyboards to help determine if systems have been exposed to liquid. Damage due to liquid exposure is not covered by the Apple one (1) year limited warranty or the AppleCare Protection Plan (APP)....
The indicators trigger only with direct contact to a liquid. The indicators will not be triggered by temperature and humidity that is within the product's environmental requirements described by Apple. A triggered indicator will turn red or pink, as shown in the examples below, indicating that the module(s) to which the indicator is attached has been exposed to liquid.
Important: If you see a triggered LSI, inspect all adjacent modules for liquid damage. Components or modules that do not work due to liquid contact are not eligible for warranty service. Furthermore, the resulting damage may be so extensive that the cost of repairing the product may exceed the cost of replacing the product. Inform customers about this possibility.
Customers are responsible for the costs of servicing products that are damaged as a result of liquid contact. This includes, for example, the cost of replacing keyboards that stop working due to liquid spills.
The most interesting part is that which we boldfaced. Apple indicates that these pastilles cannot turn pink without water, which is false after the tests of 3M. The other point is that Apple states that the colour pink also implied an immersion of the pastille and this is also false. Bright red indicates immersion, pink is able to come from ambient humidity. In short, we fear that a too broad interpretation of the color of these pastilles does not lead Apple to cancel guarantees on machines just due to humidity or of condensation, a thing which can always happen, as all the wearers of glasses will testify!