In order to deal with complains from iPhone 3G S owners experiencing short battery life, Apple has designed a procedure. If a customer claims his iPhone 3G S has a limited battery life, Apple will offer him to monitor it battery thank to a specially-designed application to be installed on the phone.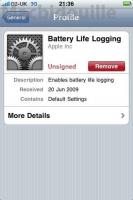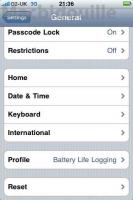 It generates a profile including all usage of the iPhone over a time period. If one analyzes further the log file you can see that all actions are recorded:
Sun Jun 21 22:29:36 2009: [Assertion released] name=PersConn-aosnotifyd-com.apple.AOSNotification; process=aosnotifyd; pid=31; NoIdleSleepAssertion=255; held_for=00:00:12;
Sun Jun 21 22:29:38 2009 Frontmost Application Changed: com.apple.mobilesafari (96)
Sun Jun 21 22:29:53 2009: Battery level = 92 [4081] (low = no, critical = no, charging = no) Call active: no
Current drain: -169 mA
Fully charged: no
Power Assertions:
SpringBoard (pid 24):
com.apple.springboard.idle NoIdleSleepAssertion == 255 Held for 00:20:12
Usage: 00:00:00 Standby: 00:00:00
Frontmost Application Identifier: com.apple.mobilesafari (96)
Next Scheduled Power Event:
PersConn-aosnotifyd-com.apple.AOSNotification
Scheduled Wake or Power On
2009-06-21 22:58:15 +0200
WiFi: On (associated to "Fraaa")
Bluetooth: OFF Nike: OFF BTAirplaneMode: OFF Discoverable: OFF Connected: NO
Almost everything is recorded, from the Wi-Fi status to the launch of an application. When discovering the beauty and the power of the iPhone 3G/3G S many customers have a tendency to use it as a mobile computer, heavy internet browsing device and a mobile game station, while heavily calling friends to report how they are in love with their new mobile phone. With such usage, the battery life will be reduced to couple of hours, as with any notebook heavily used. This procedure will allow Apple to indentify if the short battery life is related to the heavy usage or to a defective unit.