At the time of the battle around the blue laser, one saw manufacturers proposing hybrid media with one face to be used as a DVD and the other for Blu-ray or HD-DVD. There were even prototype Blu-ray and HD-DVD. But these media were in fact made up of the two others stuck back to back. A Japanese company has just announced the first really hybrid media. The same side of the disk will be able to store two layers: DVD and Blu-ray.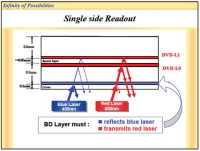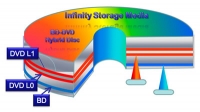 To arrive at this result, they succeeded in developing a layer of Blu-ray that is transparent to the red laser, but reflects blue. It was enough then to use the different properties between the DVD and Blu-ray, the latter is required to have its reflective layer much more close to surface. Thus, inserted in a reader DVD, this disk will be seen as a DVD; and then it will be recognised as Blu-ray media once inserted in the suitable reader.
If the price of this product remains acceptable, one should quickly see it arriving in the videos clubs which no longer will have to manage two references for the same product. There is also a possible interest by the general public, however in this case interest in universal media is less obvious since the Majors producers like to add a large surtax to the Blu-ray films.