From the day we learned that the new SuperDrive in the new MacBook Pro was in SATA format, we started looking for a solution to replace it by a second HD. After looking on the web, and thanks to the help of our partners, we have finally collected the information and tools for such goal; let's call it "bidouille". Let's first thank
Macway
that designed a on-demand adaptor for running our preliminary test,
Pearl
who directly imported the final adaptor from Germany,
DegriffMac
for providing a SuperDrive enclosure, and
Dane Elec
for giving us access to the famous Intel SSD X25-M, the fastest SSD currently on the market.
Back to the bidouille: we wanted to set a reversible procedure to install a second HD, but also make it easy to re-install the optical drive in case the notebook needs to be sent back to Apple for repair. So, we decided to install the second HD (here a SSD), in an empty SuperDrive enclosure that needs to be 9.5mm thick.
We then installed the HD and the modified controller: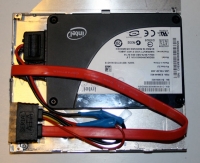 The SDD is glued to the enclosure by a double-sided tape. Only one SSD can fit in the enclosure despite being 2 mm thinner than a standard 2.5" HD. It was just enough free space for installing wires and cables:

Hereafter is the SuperDrive enclosure containing the SDD once entire closed and ready to be installed in the MacBook Pro.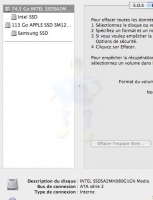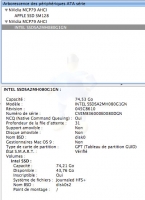 Once rebooted, the MBP directly recognized the Intel SSD, and we then formatted it, installed a system on it and rebooted from it. We immediately noticed the performance gain even compared with the original Apple SSD, most likely due to the management of NCQ. We will come back with additional details and a step by step procedure to perform such installation, as well as the way we tested the Intel SSD.