Macworld
continues its in depth test of the new MacBook Pro, and has now tested the new model with games to further evaluate the performance gain obtained from the GeForce 9600M.
The high-end model featuring a GF 9600M associated to 512 MB of VRAM is as expected the winner, with a rather "old" set of games. However, the difference with the previous MBP model powered by the 8600M is not huge, except for a rather GPU demanding game such as Doom 3. On the other side the integrated chipset, the GeForce 9400M delivers an interesting performance level, much better than the one offered by the Intel GMA X3100. In some games, the GF 9400M offers the same performance level than the Radeon HD 2400 XT found in some iMac Core 2 Duo.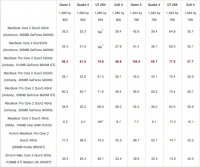 Barefeats
run another set of game test based on recent titles, and the new MBP is in average 20 % faster than the previous GF 8600M-based model.