-
NAB "Lights Camera" photo gallery
.
- the event is finished. No new Apple Cinema displays, only new audio and video-editing and post-production applications. We will provide analysis probably tomorrow, as it is already 22h00 CET.
- Oki, it is getting a bit long, with numerous demo, this event is dedicated to Pro users, so Apple brought them a lot of examples for SoftColor. SoftColor is included in Final Cut Studio 2.
- quite impressive, one can do on a video, what illustrators do on an image with Photoshop...
- SoftColor is being demoed live
- one can modify in real time the colors of a video! This is a new application for post-production video editing. The worldwide renowned movie directors, Cohen's brother are interviewed about this new application, they love it.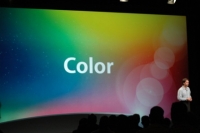 - He introduces SoftColor, a real time grading color system for FCP
- We are getting to the end, so he recapitulates: FCP6 + motion 3 + Sondtrack Pro 2 =1299$, Update from FCStudio 499$, from FCPro: 699$ ; available next month.
- Compressor 3 can assign as much work as CPUs or Cores are available! So it is fully Core aware, and is probably a really important feature for Pro users who could not really by a 8 Core Mac Pro while most applciations can not use processing power from more than 2.
- Then he recapitulates the new features now available thanks to the new version of Apple aduio and video pro solutions: industrial strength encoding, Powerull batch processing, ipod et Apple TV preset, plug-in VC1, WMV, FLAC, dynamic filter, Timecode overlay, audio and video fade in out, animated motion watermark... everything thanks to Compressor 3 on a 8 Core Xeon Mac Pro
- The video demonstrating Sountrack jsut finished, a bit difficult to relay with words
- photo illustrating the audio editing with SoundTrack pro 2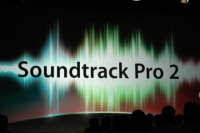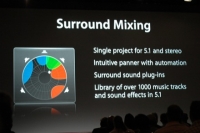 - A video shows how Soundtrack Pro 2 can be used to edit audio
- He now talks about Apple's audio solution: soundtrack pro 2, featuring surround (5.1) mixing, synchronization between audio and video when editing
- other capture from Motion 3 demo video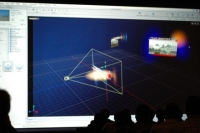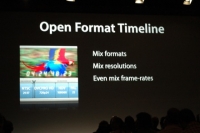 - Then he talked about, Open format timeline, Mix format, mix resolution, even mix frame rate = Motion 3 ; 3. 3D pervasive, vector based paint, a video demoing the new power of Motion 3. It demonstrates some funky special effects.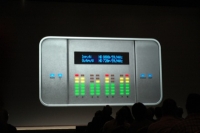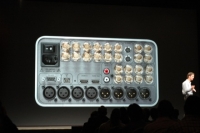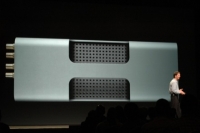 - he mentioned AJA video system, an amazing device able to convert video on the fly to HD, it works with Mac too. Final Cut Studio: 3495$ also in July
- he comment on FC studio and HD camcorders from Sony, Panasonic and other companies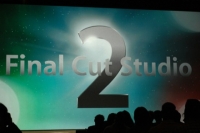 - then he introduces final cut studio 2, can manage ProRes 422, non compressed HD video supported in 12 bits,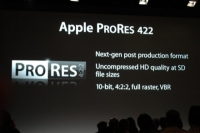 - then he keeps mentioning additional features, such as automate encoding and publishing, final cut studio integration, pro will save time thanks to online offline workflow. A video demonstrate how the system is working soothly.
final Cut server: 999$ for 10 users, 1999$ with unlimited users, Availability, this summer
- He introduces Final Cut server, featuring: media asset management, workflow automation for OSX and Win, with a catalog of more than 200 files types, automatic video proxys, powerful keyword searching, workflow automation, watch on response system,review and approve tool
- He thanks partners developing products compatible with Final Cut, it is Final Cut World. "Wonderful World" is playing, he gives examples of companies using Final Cut everyday.
- Rob Shoeben takes the stage
he talks about final Cut users:
250000 in 2005
500000 in 2006
800000 today
- the music just stopped, the conference will start
- attendees are asked to stop taking photo, one can easily spot flashes from camera in the dark conference room...
- It seems that at least 5000 people are trying to attend the conference. the conference is going to start.
we will provide live coverage (live photo from engadget, then we will change them with those provided by our team member sitting in the audience, as soon as he can upload them to our server)
- As expected the special event has drained a lot of people to the conference rooms.
Our Team member at the NAB reports about 700m of people queuing to enter the rooms.
As previously mentioned we will try to provide a live coverage of the "Lights Camera" event deliver by Apple at the NAB.
You can react in the
dedicated topic in our forum
.