The main reason of the huge delay for the introduction of Blue Laser-based media and drives has a name: AACS. Behind this acronym is hidden the anti-piracy system that will protect Blue Laser-based contents, in other words the dedicated DRM. The problem is that AACS is not finalized yet, and keeps evolving to become every day more restrictive. The most recent modification deals with video streaming, and a protection system developed by Macrovision.
At the end, the AACS DRM will be really strict and will only allow contents to be displayed in a well defined environment requiring strict HDCP-ready devices.
The problem might really well be that customers will not be ready to invest in such restricted technologies...
In a similar topic, HD-DVD will also feature a region-based protection as for the current DVD. One could have imagine that with the worldwide business such protection would be useless... no, Majors enjoy cutting and distributing the world into area as will
RISK players
will do.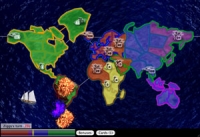 Don't you think that the splitting over different Region is really similar to a RISK board??