The MacBook pro isn't available for clients before February... and it also seems to be the case for those who work on the Apple Store, who had to prepare
a photo gallery
.
irpyC
, member of our forums, had us notice that the MacBook Pro pictures are no more than Alubook Photoshop modified pics.
For example, on this one, the infrared port was added but the reflection was forgotten.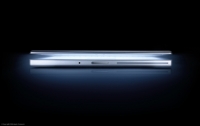 Or on that one, the closing hook is that of an Alubook. The new one is doubled because of the buil-in iSight in the middle of it.