Together with iLife, Apple has also updated
iWork
, to version 06.
Pages 2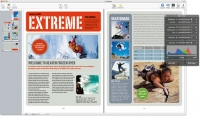 Without much advertisement, apple keeps developing its text and presentation application. With this new version, you will have additional options to integrate images into your texts.
Apple has also added into Page, simple Excel-like capabilities to generate both tables and 3D graphs. You can also now synchronize a document model with your Address book to generate mailings.
Keynote 3
For Keynote, as for Page, the new features are mostly affecting the number of options for shapes, 3D graphs, tables, etc. But it also include new theme, as well as new transition capabilities.