Intel has unveiled a new platform named ViiV. Its goal, become the equivalent of Centrino for the ultra mini PC or Home Media Center. To illustrate this strategy a new product was presented: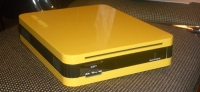 As you can see, it is a Mac mini clone, but the difference is inside. It will sport a Yonah Dualcore processor and will have a DVI output as the Mac mini, but in addition it will feature a TV turner and a flash car reader.
It represents a strong competitor for Apple if PC manufacturers decide to invest in the ultra mini PC market. Apple might have to move the Mac mini with Yonah processor as soon as this processor becomes available; in addition Apple will have to convince customers that MacOSX is superior to Windows Media Center.