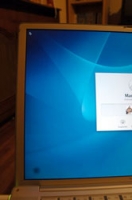 First, I want to make clear that this is a personal experience, and that different Mac users can have different experiences with AppleCare; but I think when we are satisfied with a service it is fare to mention it; and not keep our remarks and opinion about something which is not working.
The story:
About 4 weeks ago, I bought a PB 15.2" 1.33GHz from the French RefurbStore, it arrived within 3 days. It was a present for my wife. Of course she completely fell in love with this machine, and it quickly became clear that I will not be able to touch it... Unfortunately, it was also clear that the LCD panel had a problem as shown on the photo below.
This 1cm-wide spot, on the left bottom side, was exhibiting pixels with limited contrast and brightness. They were not "dead pixels", just not responsive. The size of the spot was getting bigger every time the PB was used, and it was clear that it had to be sent back to AppleCare. So I tried to explain to my wife that she will probably have to forget about her PB for 7 to 10 days. Not an easy task, trust me...Then I called Europe AppleCare on November 24th, we did some test and the diagnostic was made: back to Europe AppleCare in Holland for LCD panel exchange. On November 25th I was receiving the box to send back the PB. I called UPS service on the same day to arrange a date that they could pick up the computer. On Tuesday November 29th, the package was sent back to Holland and arrived on Wednesday December 1st in Holland at Europe AppleCare.
The PB was back today!! on Thursday December 2nd. In total it took 48 hours to get the LCD panel repaired... my wife had hardly the time to think about "how to do it without a PowerBook?".
I wish that all Mac users having a problem could experience the same satisfaction than me, but as AppleCare in the US has been under criticisms recently, I wanted to report that the Europe AppleCare can be really efficient. :)