We have worked on another way to get iTunes to use a burner drive that is not recognized by Panther. This new method has the advantage to be more elegant, from a bidouilleur's point of view.
This time we went and modified the DiscRecordingEngine library from the system. Beware! It is more complex and also more dangerous. Only use it you have a security system to boot from in case of problem.
1) Download
MBDiscRecordingEngine.sit
You should get, after decompressing it, a file named "DiscRecordingEngine".
2) Log in as root (under Panther, when you activated root, don't forget to go and check in the accounts prefpane, in Login Options, that you have "Display Login Window as name and password")
3) Use search to find the original "DiscRecordingEngine" original (it is there : System/Library/Frameworks/DiscRecording.framework/Versions/A/Frameworks/DiscREcordingEngine.framework/Versions/A/)
4) Rename it to have a back-up. And move the one you downloaded into the folder.
5) Log back in to activate the modified library
The first and hardest part is over.
[Translator's note:]
for the terminal users, or those who are reluctant -with reason- to activate and login with root account -good boys-, do as follow:
in terminal, type:
cd /System/Library/Frameworks/DiscRecording.framework/Versions/A/Frameworks/DiscREcordingEngine.framework/Versions/A/
sudo mv DiscRecordingEngine DiscRecordingEngine.backup
You will be asked for your admin password.
then do
sudo cp [_path to where the downloaded DiscRecordingEngine file is_]/DiscRecordingEngine DiscRecordingEngine
Log out and back in as yourself.
Set to go, do as follow!...
[end of terminal fanatic's part]
Then, create in the Library folder, the one at the root level of the your disc, a "DiscRecording" folder in this folder, create another folder called "DeviceProfiles".
Then with TextEdit, create a file containing the following texte: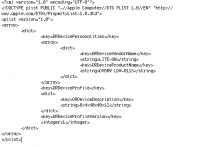 Here, the file is created to support the DVD 811S from Lite-On.
To find out how to substitute the seller name and product name, in the terminal use the command:
drutil info
Copy exactly the manufacturer name and of the device. The field linked to DRDeviceDescription can be filled on with whatever, or the official specs, as you want.
Save the file under the name "_name_.drprofile", with no other extension, and not .txt , most of it.
Here is an example of file to download, so you don't have to retype it again.
LDW-811.drprofile.sit
In this bidouille, creating the file is absolutely required, and part of its elegance!
The system will think that the unsupported burner is sold by Apple.
Hence iTunes would see a DVD drive as such, and not as a CD drive.
Beware, iDVD will always refuse to burn on an external drive.
As usual, please note that macbidouille cannot be held responsible for any damages (especially when you log in as root!), whether these are material, software or physical (in case someone hits their display out of despair :)