Refurb
There is currently no item in the refurb
Blog, posts for Category 'iPod'
by
Moose
- 27 January 2009
by
Moose
- 7 January 2009
So, this year, Apple at the Expo was all about the mac. And they meant it: although you still find tons of third party iPod/iPhone accessories, the Apple booth had only a bunch of new nanos, artfully arranged, and a couple tables with maybe a dozen iPhones.

Ironic that for its last MacWorld, Apple is focusing back on the Mac.
by
Moose
- 22 December 2008
The Tao of Mac - Notbooks and Craptops:


So if you've got some cash to spend this Xmas, I strongly suggest not spending it on a netbook. Save up for a better laptop or (if you really want something for casual surfing and reading e-mail) grab yourself an iPod Touch.
Good argumentary... that's why Jobs said Apple was not ready to do a netbook.
by
Moose
- 8 November 2008
This is an insanely clever trick. You have to give credit to Apple's developers to sweat out on tiny details... but it's all these tiny details that make a great user experience.
So, after playing a central role in William Gibson's Spook Country, as a means to smuggle data, the iPod is now going to feature in the latest - and last - installment of the cult video game franchise Metal Gear Solid, coming to PlayStation 3 this June.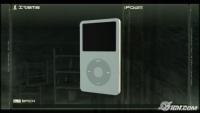 What better proof that an item is really becoming mainstream than to see it appearing in books, movies and videogames, not as a "cool factor" bullet-list gimmick, but simply as part of the story.
Full View
Monthly View
List View
Next
Previous
Printer Friendly
Tip a friend