Refurb
There is currently no item in the refurb
Blog, posts for Category 'Gaming'
by
Moose
- 27 January 2009
by
Moose
- 17 December 2008
So, a while ago, I wrote I thought gaming on the iPhone could be BIG. If only game companies would commit to the platform.
Well, since the launch of the AppStore, we have seen TONS of games, some good, some average and some plain crap, but most of them were "small, casual" games, apart from a couple like Crash and Super Monkey Ball.
But now, probably seeing the impact the AppStore has, and the volume of software it sells, we are beginning to see major players enter the market.
Last week, Namco Bandai released a straight port of their successful console game I love Katamari (OK, the game suffers from huge framerate issues, the motion sensor loses its bearings after a few minutes and when you quit the game during a level, you have to restart from scratch, but still...).
And now, Konami just announced that they will be bringing some of their big titles to the iPhone, namely Dance Dance Revolution, Silent Hill: The Escape, classic Frogger and, best of all, the famous Metal Gear Solid Franchise (pictured below) in the form of Metal Gear Solid Touch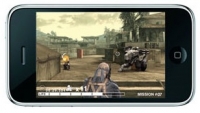 (and yes, this is the "secret" Metal Gear project that everyone thought would be the announcement of the first XBOX360 Metal Gear game... tough luck).
If you read Japanese, you can get all the details on Konami's "Touch" site, if you don't, well, there's a bunch of screenshots... And, yes, Touch KONAMI is an initiative completely dedicated to iPhone/iPod touch games...
by
Moose
- 5 December 2008
Harrison: iPhone is "game changer" // News:


Harrison added that he believed this would "change the way that certain kinds of devices consume content forever."
Just to remind you, Phil Harrison is President of Atari (former Infogrammes) and previously in charge of the PS1, PS2 and PS3 launch as well as president of Sony's game development WorldWide Studios.
So, after playing a central role in William Gibson's Spook Country, as a means to smuggle data, the iPod is now going to feature in the latest - and last - installment of the cult video game franchise Metal Gear Solid, coming to PlayStation 3 this June.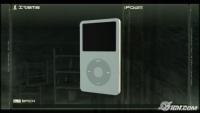 What better proof that an item is really becoming mainstream than to see it appearing in books, movies and videogames, not as a "cool factor" bullet-list gimmick, but simply as part of the story.
Well, hot on the heels of my post about a middleware provider porting its 3D engine to the iPhone/iPod touch platform (let's call it iTouch), here's a funky homebrew port of Quake3 to the iTouch.
Not that it seems the best way to play Quake to have to tilt the whole screen to move around, but it sure is a testimony to the gaming potential of the platform... Check out the gameplay video below:
Full View
Monthly View
List View
Next
Previous
Printer Friendly
Tip a friend