Changing a disk in the Time Capsule
How to gain Storage Space - A step-by-step procedure
Opening up the Time Capsule

The first step is very similar to opening up an Airport N wifi station or an Apple TV.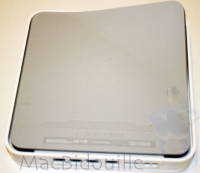 It is necessary to peel back the rubber protection that is glued to the metallic case. Do not worry, there is enough glue so that it will hold it back in place at the end of this procedure.


It is then necessary to remove the 10 screws shown by arrows and then to raise the metal plate gently. Attention: a fan is glued to the internal face of this plate. Do not tear off the wire that connects it to the mother board.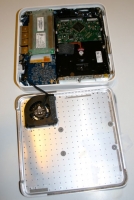 The first step is finished.