How to add WiFi 802.11 to a Mac mini Core Duo
As Apple does not want to update its Mac mini offer, we decided to add WiFi 802.11n to a Mac mini
Introduction
After
installing a Core 2 Duo in a Mac mini
, we almost had a Mac mini comparable to the future revision of this model, except for the wireless capabilities which were limited to 802.11g. So we decided to apply the procedure used to
add 802.11n in a MacBook Core Duo
to our upgraded Mac mini to make it up to date.
For a detailed procedure on disassembling a Mac mini, please refer to our previous article dealing with the
CPU upgrade of a Mac mini
.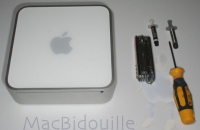 The required materials in addition to the Mac mini:
- a small cross screw-driver
- a Victorinox cybertool
- an Airport 802.11n card from a MacPro, identical in size, as shown by the following photo: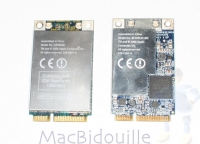 - a compatible antenna. The reason being that the Mac mini, unlike other hardware models, only has one antenna. To obtain this component, it can be ordered from a certified Apple Center, providing the reference of one of the three antennas of a MacBook Core 2 Duo. One can also, as we did it, take one of the three antennas installed in an Airport Extreme 802.11n. This may not be the best way, but for sure the fastest way for us as we already had an airport station in our hands.

Last but not least, we are not responsible for any damages or issues that may arise while you try to repeat the procedure described in the following pages.