Evaluating Performance of a Xeon 5355-based Mac Pro
Thanks to Intel, we could install two Xeon 5355 in a Mac Pro - Is the 8 cores-based architecture faster than the 4 cores-based one?
DV to H.264 Video Encoding Test
We have tested numerous benchmarking applications reported to be multicore aware, but we could not really demonstrate that 8x2.66GHz is faster than 4x3.0GHz. Indeed, the application must really be designed and coded to take advantage of all of the available cores, and not only one, two or 4 cores. Rendering applications, such as Modo, are only able to support 4 core based hardware, and this is true for all video conversion software.
So we decided to bypass this problem by simultaneously launching several rendering tasks with QuickTime Pro. We launched up to 6 simultaneous DV to H.264 video conversions.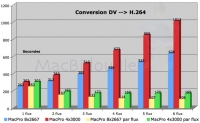 One should mention that encoding applications (such as QuickTime, FFMPEG or mencoder) share the encoding task evenly over all available Cores/CPUs. So, for 1 encoding all cores will be loaded at 40%, and not just 2 cores at 100% while the others remain idle.
So, due to this task sharing, the 8x2.66GHz Mac Pro performs the task in 253 seconds vs. 302 seconds for the 4x3.0GHz Mac Pro.
- When launching 2 simultaneous encodings, the 8 core based Mac Pro completes the task in 157s/task vs. 192s/task for the 4 core Mac Pro.
- With 3 simultaneous encoding tasks, both configurations complete the task in 173s/tasks.
- Starting at 4 simultaneous encoding tasks, the 4 core based Mac Pro starts reaching its computing limit while the 8 core Mac Pro keeps crunching video and reducing the time to complete the task, 114s/task and then 104s/task with 5 simultaneous encodings.
At the end, when comparing the time required to perform 6 simultaneous encodings, the 8 core based Mac Pro wins with 10 minutes and 36 seconds, while the current high-end Mac Pro powered by a dual Dual Core Xeon needs 6 more minutes. Pro users able to simultaneously launch encoding or rendering tasks will strongly benefit from a Xeon 5355-based Mac Pro.