How to Upgrade a Core Duo-based MacBook to Support WiFi 802.11n
Procedure and Tests
Disassembly 3/3
Put the machine back in place, and carefully remove the cover supporting the keyboard with your fingernail or a credit card. It will remove easily. Be careful not to raise it too high as it is not completely detached. You will nave to unclip the connector from the keyboard/trackpad before removing it.
The hardest is now over.
Start by delicately removing the two antennas, then the two screws (which are again different screws).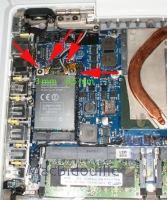 The modules can now be raised. Pay attention to the eyelet which is used to hold a cable in place.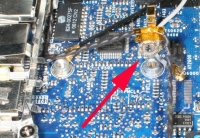 The module removes easily from it's place. Replace it with the new one, and put the eyelet, the screws, and the antennas back in place.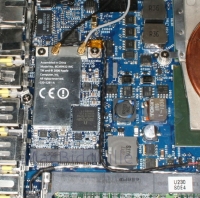 And it's finished, well... almost. Knowing that all that is left to do is to reattach all the remaining screws. But don't rush, as many problems often arrise in reassembly. If something doesn't seem to fit right, start over. There is never any need to force anything.