Mac Pro: The QuadBoot Machine
How to setup your Mac Pro to run OSX, Linux, Windows Vista and windows XP
Introduction
In this article, I will try to describe the main steps required to install 4 different OS (Mac OS X, Linux, Microsoft Vista et Microsoft Windows XP) on a Mac Pro.
We have decided to avoid providing a step-by-step procedure to prevent beginners to try it out, considering the procedure as piece of cake, whereas it requires serious knowledge. If some steps remain unclear, please browse the internet to get info, or discuss about it in the dedicated topic in our forum (
here
).
As usual, neither me or macbidouille/hardmac, are responsible for any damages or problem arising on your computer while you were trying to repeat the procedure. However, if you have comments or found an easier way to perform some steps or operations do not hesitate to post them in our dedicated forum
Problems to be solved
Hereafter is a list of problems that I had to solve or were arising while I was performing the installation
• Using BootCamp or a GPT partition schema make everything more complicated. It is easier to avoid using them to my point of view.
• Vista can not be installed on some HDs such as the Western Digital WD2500JS-41SGB0, due to a non-supported controller.
• A bootable LiveCD Linux is not available yet for the Mac Pro (problem with the optical drive chipset driver).
• Vista RC1 x86_32 and XP x86_32 does not support more than 2GB of RAM among the 6GB installed on my computer (no problem with Vista RC2 x86_64).
• Vista and XP crash during the shunt down procedure (blue windows and usually an error wd.sys).
• While booting from Linux or Vista, the Mac can hang on for up to 5 minutes (black screen after the bootloader, or temporary freeze during the boot procedure). One only needs to be patient.
• Depending on the OS, the HD id can change, even for 2 identical sessions of the same OS, so one needs to be very cautious before launching a command line targeting the HD.
• While using LiveCD Linux environment, in ISOLinux, or GRUB, I have lost the USB connection to my keyboard, so one will need to have it directly plug into a computer USB, no USB hub possible.
Materials required
Hereafter is what your will need to perform the operation:
• a Mac Pro
• at least one "OS X" HD. In my case I have been using a RAID volume composed of 2 HDs (avoiding the use of rEFIt).
• a HD "Others" dedicated to Windows and Linux.
• a Mac OS X 10.4 Intel Installation DVD.
• a Windows XP SP2 Installation CD.
• a Windows Vista Installation DVD (better consider RC2 x86_64).
• a Live CD Linux, I have been using a Gentoo 2006.1 amd64 distribution. I have not tried another distribution, nor another version.
• you need to be slightly mad or have time to lose :-) and you must be really careful when performing different operations, you might loose all your data. Think twice before validating each command line.
You will not need BootCamp, except to get the Mac drivers for Windows XP.
Principle
Once properly installed, the "quad boot" option works as follows: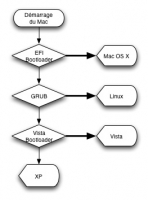 Each arrow represents aa user actions, while a bolded arrow indicates the choice by default.
As you can see on the screen capture, we move from one bootloader to another one. This procedure might not look nice, booting XP will require 4 steps (press "alt" key while booting, then choose Windows in EFI, then Windows in GRUB, then XP in Vista bootloader).
Ideally, one would prefer to directly choose its booting partition from the EFI menu. However all my attempts with rEFIt have been unsuccessful (one can choose among the 4 bootable partition, but every choice leads to GRUB); in addition rEFIt can not be used with a RAID volume. But one should try further in this direction, as it might represent the optimal solution.

Enough theory, let's go to the real work.