Unlocking the full potential of your Mac Pro's Sony DW-D150A
What is this SuperDrive in Mac Pro?
Introduction
Apple has been shipping two types of burners in the MacPro. The first is far from being unknown, as it is a Pioneer DVR-111D. The second, which one finds more often, is a Sony DW-D150A.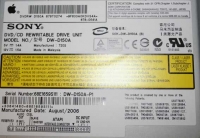 However, despite all our searching, this burner does not exist in any of the manufacturer's catalogues.
Here's what System Profiler and the "drutil info" cammand in the termail says about it: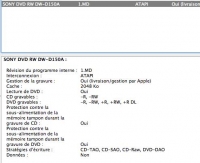 According to Apple, here is the speeds of the burner:
- DVD -/+R 16x
- DVD +R DL 8x
- DVD+RW 8x
- DVD-RW 6x
- CD-RW 32X
- CD-R 32X
As this burner does not officially exist, it is or was impossible to find a region-free firmware for it. However, knowing that Sony does not do anything more than sticking its labels on burners manufactured by others, we decided to discover its real manufacturer.