Put your iBook on steroids
A step-by-step to turn your iBook12" into a PowerBook12"-killer
Introduction
The iBook 12" is an excellent compromise between mobility, robustness, performance and price. It can also be transformed to become a strong competitor for its brother, the PowerBook 12". However, it is impossible to equip the iBook 12" as a PowerBook 12" via the BTO from the Apple Store. So, it can be tempting to buy a basic iBook 12" model and upgrade it yourself into a highly performing mobile computer. This article is intended to provide you help to perform such transformation. This transformation is not a "piece of cake", and requires skills, knowledge and tools. So read this article many times to ensure that you understand properly each step and the action performed. If you have a doubt, DO NOT START!
AS USUAL, THOSE INFORMATION ARE PROVIDED AS IT IS WITHOUT ANY WARRANTY OF SUCCESS, AND NEITHER MYSELF, NOR MACBIDOUILLE/HARDMAC, ARE RESPONSIBLE FOR ANY DAMAGE OR MISTAKE THAT CAN AFFECT YOUR MATERIAL.
Required materials :
1x iBook G4 12" 1.2GHz or 1.33GHz standard (256MB/30GB/Combo/Airport Extreme).
1x superdrive 8x MATSHITA UJ-845S multi-formats (-RAM, -R, -RW, +R, +RW).
1x HD Hitachi 80GB 7200rpm 8MB cache (HTS721080G9AT00).
1x Apple Bluetooth kit for iBook (including the module, wires and antenna)
1x very small screw intended to fix the BT module to the motherboard (not necessarily provided with the BT kit).
1x 1GB of DDR SDRAM SODIMM PC2100 or PC2700 (CAS 25330).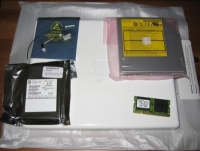 The iBook 12" can be bought from any AppleCenter or via the Apple Store. For the DVD burner, you can buy it either from our partner Macway, or your favorite Mac or PC shop. Remember that the location of the SuperDrive connector might vary from one model to another. Concerning the RAM module and the HD, you can buy any good quality product. At the opposite, the BT module as far as we know is only available in France and in Europe from
TCS Mac
.
All parts including the iBook have been purchased for 1,598 euros VAT included. To compare, the same iBook 80GB 5400rpm without the SuperDrive costs : 1,677.99 euros VAT included and the PB 12" Superdrive 1.2 GB with 80 GB 5400rpm : 2,168 euros VAT included.
Required tools :
1 torx screwdriver.
1 small cross-shape screwdriver.
1 small flat shaped screwdriver.
1 small flexible plastic spatula (thin and robust).
1 small forceps.
1 opened, cleaned and well lighted working area.
1 ice-cube pack or equivalent to store all screws while indicating their original location.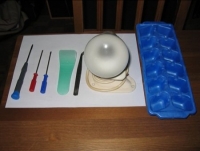 Bench shield :
Before starting, remember to install a protection sheet or a bench-guard sheet on your working area to protect your iBook from scratches.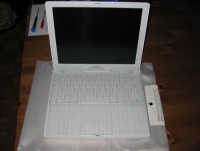 Finally, ensure that you are not loaded with static electricity, or use an anti-static bracelet. Some components might be damaged by electric shocks.