Ice>Link:iPod kit
Presentation and installation of the Dension's Ice>Link:iPod kit in an Audi
Presentation
Looking for the best way to listen to my iPod while driving, I decided to set up the IceLink kit. Hereafter is how I proceeded.
I had already tried the iTrip, but I must admit that I had been quite disappointed by this product: too complicated to find the right frequency inside an urban area, and this noise, like something breezing in the speakers, pretty bothering when you listen to classical music...
Therefore, I got interested in the Icelink, when I discovered it on Dension's stand, during Apple Expo'04.
They propose a way to integrate your iPod inside your car, and have it recognized like a CD player. Beware however, you will have to choose between iPod and a CD loader, because both won't fit together.
I ordered the kit to replace the 6 CD loader I didn't use, and got it a few days later. I had exchanged some e-mails on the website, to make sure I would be able to install it.
The kit includes:
- a "Connect2" interface towards the car radio (an Audi, in my case)
- an adapter for the car radio connector
- a cable extension (optional)
- a craddle for iPod.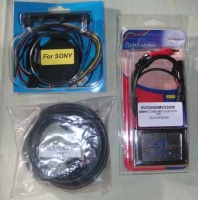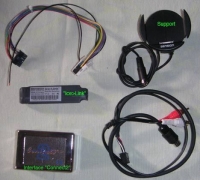 I somehow hesitated to order the craddle, or have the iPod linked to a simple cable in the glove box. I don't regret my choice at all, which I shall explain later.