iMac 27" Processor Upgrade
How to replace the Core i5 by a Core i7 in a 27" iMac.
Our choice.

We decided to do the upgrade in order to gain significantly more performances. We therefore decided to replace the 2.66 GHz Core i5 (precisely an i5-750) by a 2.93 GHz i7-870, holding 8 MB of L3 cache and having a TDP (Thermal Design Power) of 95 Watts, close to the one of the Core i5.

Another advantage, we go from a 4 physical cores processor , which doesn't allow Hyper Threading to a 4 physical cores processor that can simulate 4 other logical cores and which can reach, when "TurboBoosted" 3.6GHz, while the i5-750 can only reach 3.2 GHz. This should give it a lot more power and bring it to the level of the 2010 model at almost no cost, while the option costs $200 on the AppleStore.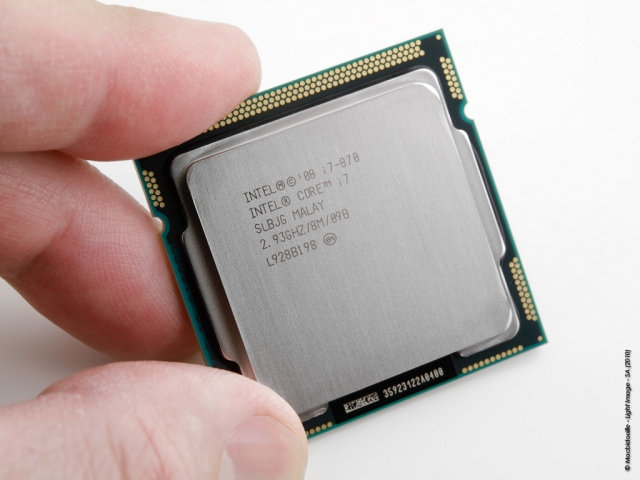 By taking advantage of the fact that both processors share the same socket, the Core i7 replaces the "old" i5 with o problem. The design of the iMac - a great Apple achievement - helps a lot and the swipe takes less than 5 minutes once you have laid down the mother board on the table, as you will see below.
The right tools.
As usual, it is very important that you use the right tools. Few of them are necessary, but some are very important such as the ones you will use to remove the glass of the display. Don't worry if you don't have any specific tools for removing glass, we have found a pretty funny alternative that you will see below.
You will need a couple of suction cups for the glass, Torx screwdrivers size 10 and 15 (having all sizes art close range can be useful), a Phillips magnetized screwdriver size 00x40, a flat screwdriver, pliers (see picture) and optionally an antistatic screwdriver, which is great to plug back little connectors.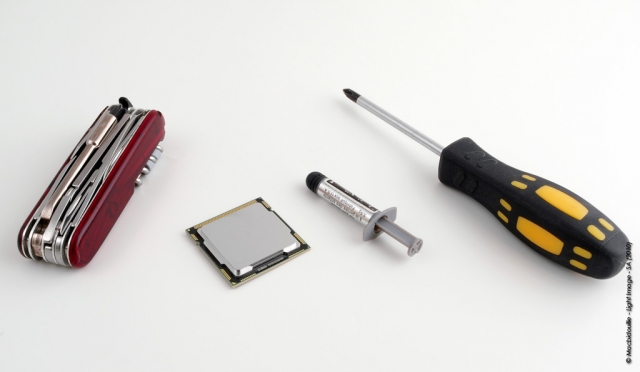 If you have a Swiss Army Knife, it should do the trick, but the Torx screwdrivers are essential. Also, you will need some thermal compound, preferably some Arctic Silver.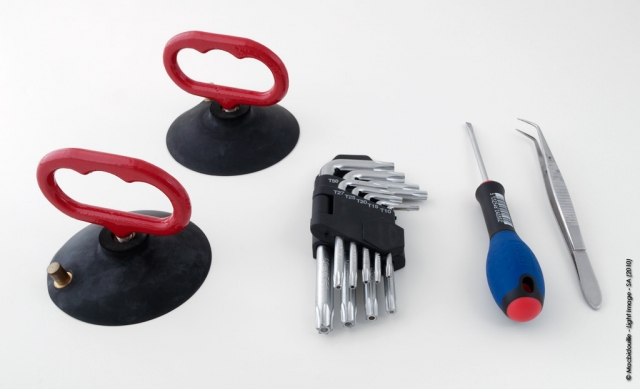 CAUTION:
If you decide to open your iMac while it is still under warranty, we advise you to follow Apple's directions, meaning to wear gloves and an antistatic bracelet. Unplug the iMac and wait fifteen minutes before touching the power supply unit, after removing the LCD LED display, in order to avoid any electrostatic chock. We remind you once again that in case of any broken part, the warranty will be irremediably void.