iMac 27" Processor Upgrade
How to replace the Core i5 by a Core i7 in a 27" iMac.
Despite the fact that the current model of 27" iMac running on Core i3, i5 or i7 appears - much like the previous 2009 model - to leave little room for upgrade except for the few options available on the AppleStore (CPU, RAM, Hard Drive, and now even SSD), this All in One computer can be upgraded with just a little bit of work, thanks to the new Core iXX chips running inside, designed for desktop computers and not laptops.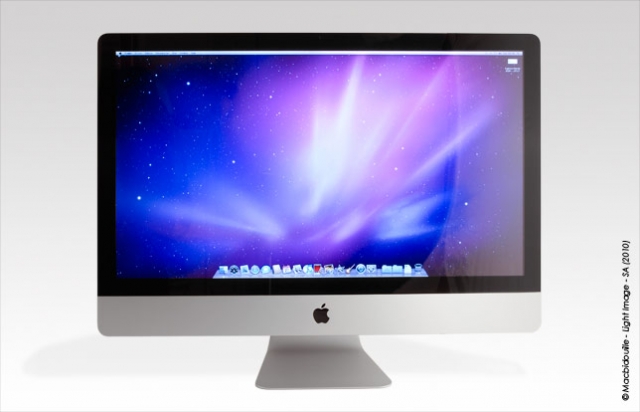 Even though it doesn't appear to be "upgrade friendly", the 2009 27" Core i5 is the ideal investment. You can find it on the Refurb for a good price and and outside also, if the warranty has expired, it makes it the perfect computer for this kind of transformation.
The new Core iXX processors are mounted on a socket that has direct access to the memory thanks to an E/S controller, which allowed Intel to eliminate several restrains such as the FSB (Front Side Bus) to use newer technologies such as Hyper-Threading and TurboBoost. From there, to make a long story short, the Core iXX processors don't have to use the mother board's clock multiplier any more in order to work. That way, if we replace say, a Core i5 with a Core i7, the subject of this step by step, the processor will be running the machine and telling it how to work and how to adapt.
In short, replacing a Core i3 or i5 by a Core i7 will not affect the rest of the computer since it follows the processor's "directives". That way, when we replace the 2.66 GHz Core i5 by a 2.93 GHz i7 on the 27" iMac, the new CPU "tells" to motherboard to tune in and to adapt, which it does without any hardware modification.
We invite you to discover how to do this easily by following this step by step article.
Each step is detailed in order to allow you to swipe processors without damaging the rest of your computer. You should note however, that you can never be too careful. We advise you to read carefully all the details and to keep a digital camera with you during the entire operation. This might be useful to make sure you didn't forget to screw some part back or plug some cable back, and to find one screw still outside once the computer is back in one piece… read carefully, take you time and everything will be fine.
As a reminder, taking apart your computer can void the warranty if, while doing so, some pieces were falling or breaking. Upgrading the RAM doesn't void the warranty.
If you go all the way and change the processor, the warranty will be automatically void. We advise you to do this operation only on an iMac on which the warranty has expired, such as the 2009 models. Hardmac and Macbidouille decline all responsibility in case of any damage caused to your computer if you decide to follow the process described in this step by step.