Universal Access on Mac OS X
Guillemette presents useful tools for handicap accessibility on the Mac.
Have you ever wondered how blind people are able to use their computer? What are you able to do when you can't use the mouse or the keyboard? There are simple solutions integrated into Mac OS X that more people should know about. In the following, Guillemette will be presenting universal access basics on a Mac:

To me, it seems natural to use standard tools at first since they are cheap and easy to find. Additionally, there are some very good universal access programs that deal with specific needs.
For the Blind?
VoiceOver
Mac OS X has a built in screen reader that lets you control your computer using only your keyboard, while a voice describes what is happening on your screen. VoiceOver allows you to create and modify text documents, exchange email, surf the web and even play chess! The program reads the content of documents out-loud and gives you a vocal description of your work space and everything happening on your computer.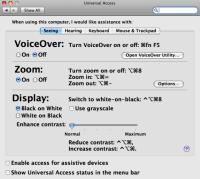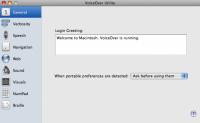 Thanks to its built-in drivers, VoiceOver can also be used with over forty Braille terminals, including Bluetooth ones. In the end, being blind is not what will get between you and using your Mac!
GhostReader
In addition to VoiceOver, I usually recommend GhostReader. It provides you with a slightly more comfortable screen reader than VoiceOver. It is multilingual and includes a very nice option that lets you transform text documents into audio files.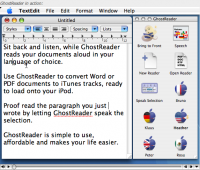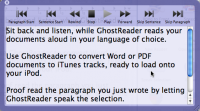 VisioVoice
Blind people frequently use zooming and contrasting tools, and for that, VisioVoice is a very good solution. It compliments the current options that are already present in the OS. It provides a text reading tool, a large cursor, and an utility that converts text files into iTunes music files. In addition, it has two kinds of zoom: one for images and one for text; both can be configured independently, depending on the person's needs.
Other small applications such as Omnidazzle can help with finding the cursor. Here is a video demonstration.