Time Capsule V3: Review and Test
Changes and figures
While Airport products remain usually unchanged for many years, Apple refreshed its Time Capsule models frequently. In March 2009, the second version brought support for dual band (simultaneous usage of both frequencies 2.4 and 5 GHz, first one for long range transfer and last one for short range transfer). In July 2009, models were once more updated with larger storage space. In October, new models were released along with Mac mini and iMac. Here, the main difference is an evolution of the MIMO (Multiple Input Multiple Output). The unit is now using 3 channels for input and 3 channels for output transfer instead of 2+2 with previous models. With such improvement, Apple claims that data transfer speed can be improved by up to 50% while effective range should be now be increased by 25%. We are going to challenge those claims.
First, the new model: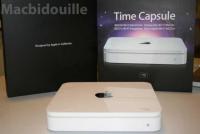 From the outside, nothing can allow you to discriminate the new 1 TB model with the previous one. We then decided to disassemble both to evaluate changes inside:
The old model is on the left (with its grafted 2 TB HD) and the new one on the right. It is really hard to find differences. You will have to get a screwdriver and look careful to spot changes. The main difference is the additional antenna now located on the front side and on the top of the Capsule.
This antenna is not present in previous models. Last but not least, Apple decided to choose the same HD model we used to upgrade the storage capacity of our old Time Capsule: Western Digital Caviar Green.
This HD offers low heat release and is particularly silent. This is for sure the best choice for such station (maybe with the Samsung Green HD model too).
Let's now look at the installation of the new Time Capsule. You will need the new Airport utility version 5.5:
The firmware of the station shipped to us is v.7.5. Our tests showed that the short distance data transfer speed (with 802.11a channels, large bandwidth at 300 MBits/s) reached indeed up to 16 MB/s. For long distance performance, we could measure 9 MB/S in conditions where the previous models could only deliver 3 MB/s. We could not challenge the claim related to increase effective range as it is always difficult and strongly depends on the environment.
To be noticed, we could easily change the 1 TB HD shipped with the unit by the 2 TB HD we had installed in the previous Time Capsule model.
Last but not least, another excellent news. If booting the station remain a rather long process (couple of minutes), rebooting it after a firmware update or changes in specifications takes only few seconds..