GigaDesign processor upgrade for the Cube
At last, Gigadesign finally has brought an accelerator card for Cubes.
1) Introduction :
After a few weeks of suspense awaiting the new card, it is available for retail. In France, the price without VAT is EUR 399,- at
Macway
, i.e. about USD 475,- or GBP 279,- overseas.
Here are some pictures of the card, the upside and the downside: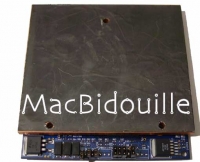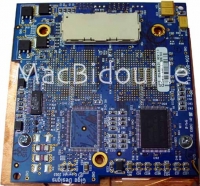 As for the metallic plate, it is not made out of aluminium but cooper, contrarily to what other manufacturers like Apple and some other manufacturers do. On the upside, there is a thermal pad on it.
The processor is a 1 GHz G547455A certified to operate properly under temperatures up to 85¡C/ 185¡F.
As you will certainly notice, this card has nothing common with the previous cards from Gigadesign since it has a dual processor layout/ design. However, Gigadesign will not make any dual processor upgrade for Cubes.