Miglia TV Alchemy
Illustrated test of the TV PCI card of Miglia
PowerMacs G3, G4 and G5 are equipped with PCI slots, allowing functionality upgrades. It is possible to install either audio, SCSI, FireWire cards, or TV tuner card which will allow you to directly display TV channels on your computer.
First, I want to thank Miglia fro sending the TV Alchemy card for our test. This card has both a radio and a TV Tuner. In addition, this card also equipped with an audio and a video input, as well as an audio output. Hereafter is a picture of the card: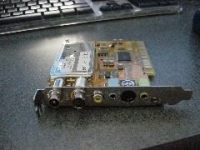 The card came with an installation CD, a warranty form, and a strange cable (which turns out to be a radio antenna/receiver). There is a user manual as a PDF file on the CD.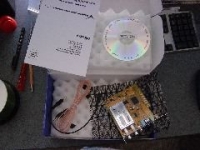 The radio antenna/receiver is shown below: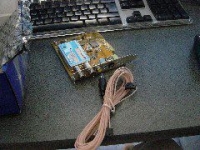 Son aspect pourrait faire croire que ce câble est là pour servir d'antenne, mais son connecteur ne lui permet de n'être branché que sur l'entrée vidéo de la carte. Pour le moment, ce câble reste donc bien tranquillement au fond de sa boîte, cela n'empêche en rien le bon fonctionnement de la carte.
1. Installation
Installation is quick and easy. Just open your Mac, put the card into a PCI slot, then reboot and install the required application present on the Installation CD.
The test has been performed with MacOSX.2.8, since I did not receive my Panther CD yet. There was no test possible under MacOS9 since I do not have it installed on my G4 anymore.
Then I have plugged my TV cable to the proper input port on the card, and...that's it.